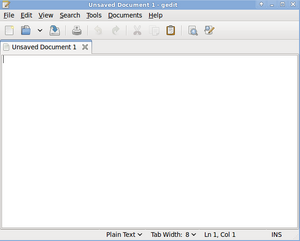 Gedit is the default text editor in Ubuntu that supports the features of most standard editors. It is is the official text editor of the GNOME desktop environment. It can be installed by the package manager. It is released under the GNU General Public License.
Features
Edit
Code comment: Comment out or uncommon a selected block of code.
Color Picker: Pick a color from a dialog and insert its hexadecimal representation.
Draw Spaces: Draw Spaces and Tabs
Session Saver: Save and restore your working sessions
Bookmarks: Easy document navigation with bookmarks
Show/Hide Tab bar: Add a menu entry to show/hide the tab bar.
Smart Spaces: Forget you're not using tabulations.
Embedded Terminal: Embed a terminal in the bottom pane.
Bracket Completion: Automatically adds closing brackets.
Join/Split Lines: Join several lines or split long ones
Character Map: Allows insertion of special characters just by clicking on them.
Ad blocker interference detected!
Wikia is a free-to-use site that makes money from advertising. We have a modified experience for viewers using ad blockers

Wikia is not accessible if you've made further modifications. Remove the custom ad blocker rule(s) and the page will load as expected.