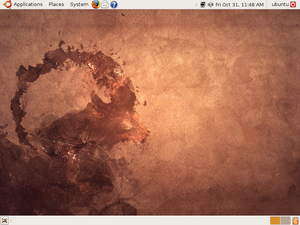 .
Intrepid Ibex Ubuntu 8.10 is Canonical ninth Ubuntu release. Intrepid Ibex was released on 30 October 2008 and is supported until April 2010. It has improved ability for Internet connections. It has a Ubuntu Live USB creator
Intrepid Ibex has several new features including improvements to mobile computing and desktop scalability, increased flexibility for Internet connectivity, an Ubuntu Live USB creator, an encrypted private directory for users, Dynamic Kernel Module Support that allows kernel drivers to be automatically rebuilt when new kernels are released and support for creating USB flash drive images.
Applications
Edit
It includes GNOME 2.24, Mozilla Firefox 3.0, OpenOffice.org 2.4 and Pidgin 2.5. The server installation included MySQL 5.0, PHP 5.2 and Python 2.5. Ubuntu 8.10 uses Linux 2.6.27 and X.Org 7.4.