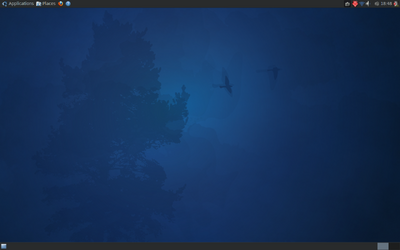 Karmic Koala, code name for Ubuntu 9.10, is Canonical's eleventh and latest Ubuntu release. It was released on October 29th, 2009. Desktop will be supported until April 2013, server until April 2015. The default boot loader, Grub 2, was rewritten replacing the Grub legacy boot loader. It allows cross-platform installation allowing grub to used by various architectures.
Karmic includes, along with other programs, GIMP 2.6, GNOME 2.28, Mozilla Firefox 3.5, OpenOffice.org 3.1, Linux 2.6.31, Empathy Instant Messenger instead of Pidgin.
Network connectivity
Edit
Ubuntu uses the NetworkManager to manage wired and wireless connections. It has been upgraded in 9.10 to simplify creation of ad-hoc networks and fewer connectivity drops. The appearance has been improved with new icons also. Wicd, another connection manager is available in the package manager. If Wicd, which has no GNOME dependencies but does require GTK, is installed, the default NetworkManager will be removed automatically.