Mark Shuttleworth
announced the future release of
Ubuntu
11.04
Natty Narwhal
on 17 August 2010.
[1]
[2]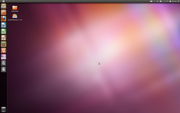 released on 28 April 2011. Ubuntu Desktop replaced
GNOME
Shell as default with the
Unity
User Interface.
[3]
The move to Unity was controversial because GNOME developers feel that it will fracture the community and marginalize GNOME Shell.
Natty Narwhal has the option at login to choose to choose Ubuntu Classic and Ubuntu Classic no effects.
Banshee is the default music player, replacing Rhythmbox Music Player. The default browser is Mozilla Firefox 4.
LibreOffice is the default office suite which replaced [4] OpenOffice.org.
References
Edit