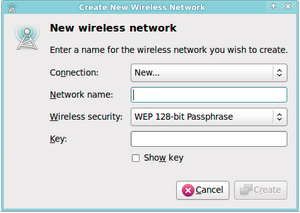 NetworkManager is a software utility for managing wired/wireless networks on Linux and other Unix-like systems. It is the default networking utility for Ubuntu.
The NetworkManager project was started in by Red Hat 2004 to help Linux users more easily setup wired and especially wireless networking. Is available for the System Tray Protocols GNOME KDE and Xfce. It supports WEP and WPA. WPA is more secure than WEP. NetWorkManager does not require command-line interaction.
Ad blocker interference detected!
Wikia is a free-to-use site that makes money from advertising. We have a modified experience for viewers using ad blockers

Wikia is not accessible if you've made further modifications. Remove the custom ad blocker rule(s) and the page will load as expected.