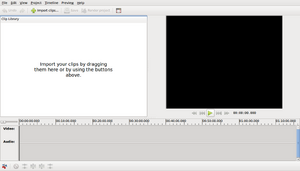 PiTiVi is an open source video editor, written in Python and based on GStreamer and GTK+. It is the default video editor in Ubuntu. It allows users to easily edit audio/video projects based on the GStreamer framework. PiTIVi provides several ways of creating and modifying a timeline. Ranging from a simple synopsis view (a-la iMovie) to the full-blown editing view (aka Complex View) to allow complete control of your editing.
Features
Edit
Unlimited video/audio track layers
Snapping
Splitting/cutting
Frame stepping, keyboard controls and shortcuts
Sound mixing of multiple concurrent audio layers
Trimming, splitting/cutting
Fast, play head-centered zooming
Mousewheel integration with modifier keys for time line navigation
Linking/grouping of clips
External links
Edit
Ad blocker interference detected!
Wikia is a free-to-use site that makes money from advertising. We have a modified experience for viewers using ad blockers

Wikia is not accessible if you've made further modifications. Remove the custom ad blocker rule(s) and the page will load as expected.