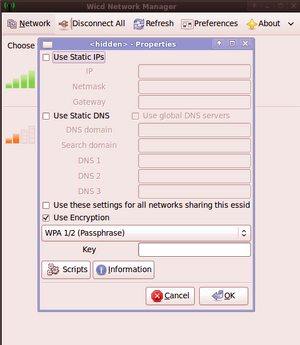 Wicd is an open source wired and wireless network manager for Ubuntu. It has the ability to connect to and maintain profiles for wired and wireless networks. It supports WEP, WPA and WPA2 and custom schemes. It is compatible with wireless tools and has a tray icon display showing connectivity and signal strength. It has no GNOME dependencies but does require GTK+. The default NetworkManager is uninstalled when Wicd is installed.
Ad blocker interference detected!
Wikia is a free-to-use site that makes money from advertising. We have a modified experience for viewers using ad blockers

Wikia is not accessible if you've made further modifications. Remove the custom ad blocker rule(s) and the page will load as expected.